---
If you enjoy
stretching in bed
before going to sleep or right when you wake up in the morning, here's a variation of
Pigeon
that will stretch your tight hips.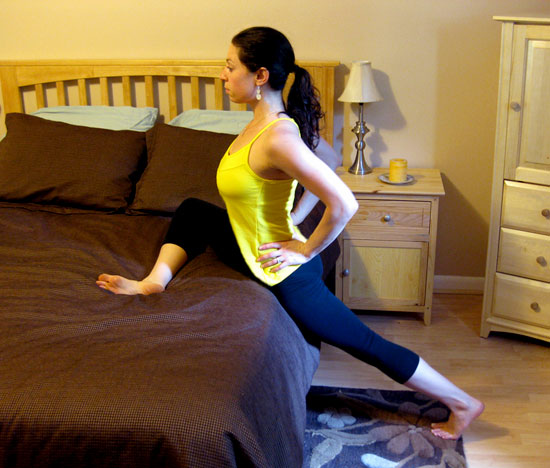 To learn how to do this stretch keep reading.
Stand in front of your bed and lift your right knee up. Place your lower right leg on top of the bed. If your hips are pretty flexible, adjust your shin so that it's parallel with the edge of the bed. Flex your right foot and stay here for 30 seconds.
Then fold your torso over your right leg for another 30 seconds.
Lift your torso up, and then switch sides.
Check out FitSugar's website for more great info.
http://www.fitsugar.com/3368271
I posted this because pigeon pose on the floor is my very favorite yoga pose. It is so excellent for runners. I had never thought about this modification. As soon as I saw this I had to try it. I went to my bed. Totally awesome! May even be better than the floor version. Wanted to share with all my running buddies.
Thanks so much FitSugar. I needed that!
I will need it even more on Friday, mid morning after my 20 mile run. I am rested and ready. I had a short nap this evening. I have the coffee pot set. I have my running clothes and shoes out, and ready. I've been drinking water like crazy. All I have to do is go drop my waters and Gatorades, and to be sure to get to bed early.